Team
Editorial Board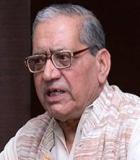 Kapil Kapoor

Dr Kapil Kapoor, an Indian scholar of linguistics and literature and an authority on Indian intellectual traditions, served as Professor at the Centre for Linguistics and English and Concurrent Professor at the Centre for Sanskrit Studies in Jawaharlal Nehru University (JNU). He also worked as Dean of the School of Language, Literature and Culture Studies, JNU, from 1996–1999 and Rector (Pro-Vice-Chancellor) of the University from 1999–2002 before retiring in 2005. In 2018, he was appointed Chairperson of Indian Institute of Advanced Study (IIAS) at Shimla. Previously, he was Chancellor of Mahatma Gandhi Antarrashtriya Hindi Vishwavidyalaya at Wardha, Maharashtra. He is Editor-in-Chief of the 11-Volume Encyclopedia of Hinduism published by Rupa & Co. in 2012. He resides at B-2/332, Ekta Garden, 9-I.P. Extension, Near Mother Dairy, Delhi, India and can also be contacted at kkapoor40@yahoo.com.
DOJ: Aug 04, 2021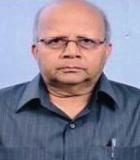 Satish Kumar

Dr Satish Kumar, who retired from Uttar Pradesh Higher Education Services Commission (Class I), worked as Professor and Head in three Government Colleges as well as the Principal of five Government Colleges of Uttar Pradesh. He has authored a number of books including Edgar Allen Poe: Style and Structure of His Short Stories, Literary Explorations, A Survey of Indian English Prose, A Survey of Indian English Poetry, A Survey of Indian English Drama, A Survey of Indian English Novel, History and Principles of Literary Criticism, Chaucer to 20th Century: A History of English Literature, A History of American Literature and Jawaharlal Nehru: The Discovery of India: A Study. He had also been the former Dean, Faculty of Arts, MJP Rohilkhand University, Bareilly, U.P. He served as the Contributing Editor of Creation and Criticism from March 2017 to Sep 2020. He resides at Surya Kiran, HIG-27, Ram Ganga Vihar, Phase-2, Moradabad, -244001 (UP) India and can be contacted at drsatishkumar08@gmail.com.
DOJ: Oct 10, 2020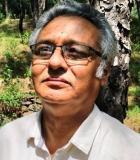 S.A. Hamid

Dr S. A. Hamid retired as Professor of English from Kumaun University Campus, Almora, Uttarakhand after holding posts like Head of the Department and Dean, Faculty of Arts. He has published four books of poetry: Autumn Rainbow (1993), No Man's Land (2003), Desire, Ultimately (2013) and The Ontology of Desire: New and Selected Poems (2015). His poems have also appeared in journals and anthologies, and he is well on his way to bring out his fifth book of poems in early 2021. His translations of poetry from English into Urdu/Hindi and vice versa have appeared in various journals, and his Urdu translation of Hemingway's The Old Man and the Sea was awarded by the Uttar Pradesh Urdu Academy. He currently lives in Almora and can be reached at syedali.hamid2@gmail.com.
DOJ: Oct 10, 2020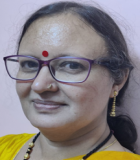 Sumitra Kukreti

Dr Sumitra Kukreti (D.Litt.) is Professor and Head in Department of English in M. J. P. Rohilkhand University, Bareilly. Prior to joining this University, she has taught in H. N. B. Garhwal University, Srinagar (Garhwal) and has also given her services to G. B. Pant University of Agriculture and Technology, Pantnagar as Associate Professor. During the period of three decades devoted to teaching at University level, she has been engaged in multifarious academic activities—right from working on research projects, to conducting National level workshops and seminars. She has also delivered invited resource lectures in Universities, colleges and refresher courses. With three books to her credit, she has published around 50 research papers in National and International Journals of repute. Sixteen Students have been awarded Ph.D. degree under her supervision. She can be contacted at sumitrakukreti11@gmail.com.
DOJ: Oct 10, 2020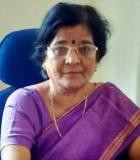 Madhu Bala Saxena

Dr Madhu Bala Saxena worked as Professor and Head of English Department of IFTM University, Moradabad and Associate Professor and Head of English Department of M.H.P.G. College, Moradabad, U.P. She is M.A. in Sanskrit and English and her doctoral degree in English is on Treatment of Human Relations in the Novels of Somerset Maugham. She has been writing research papers and book reviews for various journals and magazines and guiding research scholars of English Literature for the last thirty five years. Her main interest lies in Indian Literature in English, particularly in Indian English Fiction. She served as the Contributing Editor of Creation and Criticism from March 2017 to Sep 2020. She resides at E-38, Wave Green, Ramganga Vihar, Phase-2, Opposite Wave Mall, Moradabad, -244001 (UP) India and can be contacted at madhumh53@gmail.com.
DOJ: Oct 10, 2020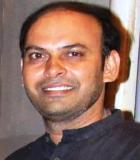 Ajay K Chaubey

Dr Ajay K Chaubey, with more than 13 years of teaching experience, is a Senior Assistant Professor of English at Department of Humanities & Social Sciences, National Institute of Technology, Uttarakhand. He has to his credit more than 25 publications including research papers, book reviews and interviews, appeared in national and international journals (indexed in the UGC-CARE and SCOPUS), magazines, and anthologies. He has delivered many expert lectures and plenaries in webinars, workshops, conferences and symposia. He has presented his papers in more than 30 national/international conferences held in India and abroad. He is on the advisory/editorial boards of various national/international journals, including The Journal of English as an International Language [ISSN: 2200-2014 (Online)], indexed in the SCOPUS, published by Dr. Paul Robertson for English Language Education Journals, Australia. His major academic publications include V. S. Naipaul (Atlantic, 2015), Salman Rushdie (Atlantic, 2016) followed by a trilogy on South Asian Diaspora (published by Rawat Publications, Jaipur in 2018, 2019 & 2020). He can be contacted at kcajay79@nituk.ac.in.
DOJ: Oct 10, 2020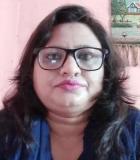 Shamenaz Bano

Dr Shamenaz Bano, who is the Author, Co-Author, Editor and Translator of 19 international books, is currently teaching English Literature at Rajarshi Tandon Mahila Mahavidhyalaya, Prayagraj. She has taught English Literature and Language at S. S. Khanna Girls' Degree College, Ewing Christian College, Allahabad University and Communication Skills at Allahabad Institute of Engineering & Technology. She has professional experience of more than 17 years. She has published 70 research papers in National & International journals across the globe and has presented papers in 55 National & International Seminars/Conferences all over India. She is a member of the Editorial Board of many international journals, including Angloamericanae Journal (Macedonia), KJHSS (Azerbaijan) Anglisticum (Macedonia), IJRHS (Jordan), Cyber Literature: An Online Journal, The Context, English Literator Society, Literary Miscellany, Research Access & Expressions, Levure Litteraire (France-Germany-USA). Her latest book is a short stories collection, The Jasmine Girl and Other Stories. She can be contacted at dr.shamenaz.alld@gmail.com.
DOJ: Oct 10, 2020