Journey
---
Re-Markings@20th Anniversary Milestone
---
Nibir K. Ghosh
---
Beginning in March 2002, Re-Markings has completed twenty eventful years of publication with its March 2021 20th anniversary special number. Published with unfailing regularity, akin to the rhythm of the two equinoxes, in March and September each year, Re-Markings has consistently provided a much-needed healthy forum for scholarly and authoritative views on broad socio-political and cultural issues of human import as evidenced in literature, art, television, cinema and journalism with special emphasis on New Literatures in English including translations and creative excursions like story, poetry, reminiscences, reviews etc. If the journal enjoys the rare distinction of publishing contributions of celebrity writers and distinguished academics, scholars and researchers from over 80 countries of the worldincludingNobel, Pulitzer, U.S. National Book Award, Padmashree, Sahitya Akademi and other award winners, it is no less significant that it has given ample encouragement to newcomers and young scholars by introducing their work to the academic fraternity in the country and all over the globe.Numerous young scholars in India have gratefully acknowledged how the mentoring and training they have received from me asthe Chief Editor of Re-Markings havemotivated them to launch their own journals.
While each issue of the journal provides a kaleidoscopic range and variety of intellectual feast to its worthy readers, special sections on V.S. Naipaul (March 2002), Communalism (September 2002), Racism (March 2003), John Steinbeck (September 2003), David Ray (March 2004), W.H. Auden (March 2007), and Doris Lessing (March 2008) have attracted considerable attention from academics and researchers worldwide. Special numbers on Langston Hughes (January 2014), Bose: The Immortal Legend of India's Freedom (January 2017), A World Assembly of Poets: Contemporary Poems (November 2017) and India: Diversities and Convergences (May 2018) have decisively enriched the Re-Markings' treasure trove.
Adorning its Advisory Board are celebrities like Dr. Charles Johnson (U.S. National Book Award recipient), Professor Sugata Bose (Gardiner Professor of History, Harvard University), Professor Morris Dickstein (Distinguished Professor of English and Theatre City University, New York), Professor Jayanta Mahapatra (Padma Shri and Sahitya Akademi award recipient), Dr. Ramesh Chandra Shah (Padma Shri and Sahitya Akademi award recipient), Professor Jonah Raskin (Professor Emeritus Communication Studies, Sonoma State University, California), and Professor Amritjit Singh (Langston Hughes Professor, University of Ohio) – all of whom have enriched the journal with their regular contributions.
The national and international outreach of Re-Markings and its contribution to creating a climate of opinion in a world caught in the throes of despair and hope can be gauged from the accolades the journal has received in its memorable journey. In the words of Charles Johnson: "The 20-year anniversary of Re-Markings is a cause for celebration. For two decades I've read this excellent and ground-breaking publication, which with every issue brings its readers the work of award-winning writers, talented scholars, and critical thinkers from around the world. It is a cornucopia of cultural inclusion, and I feel privileged that my work has appeared on its pages. One might say Re-Markings is India's finest literary ambassador to the world."
Dwelling on the role of Re-Markings in surmounting walls and boundaries to promote the brotherhood of harmony, Dr. Tijan M. Sallah, the renowned Gambian writer and former World Bank Executive says: "I am reassured by platforms like Re-Markings where dialogue triumphs over tone-deafness, where our common humanity is celebrated over the hereditary differences of tribe, belief or geography. Twenty years might be youth for a human life but a significant, non-trivial milestone for a literary publication." Prof. Jonah Raskin from California observes: "Twenty years is a very long time, especially these days, for a print magazine. Re-Markings has enjoyed a rich and rewarding global life of creativity and compassion. I look forward to reading the anniversary issue at my home in California, which is far from India, and really not far at all, when Re-Markings arrives." In a similar vein, E. Ethelbert Miller, Poet and literary activist from Washington, D.C., states: "Nibir K. Ghosh should be admired for giving breath and life to Re-Markings for twenty years. His journal should be viewed as a resource for future thinkers. Happy Anniversary! Thank you for creating a 'palace' for international ideas and scholarship."
Prof. Walter W. Hoelbling from Graz Austria notes: "On the occasion of its 20th birthday, my congratulations go to the editorial team and advisory board of Re-Markings for their successful attempt to inform and also bring together international scholars of English Letters and Cultural Studies." Anita Auden Money, the niece of W.H. Auden, from London records her appreciation of Re-Markings as, "I am very glad to have an association with Re-Markings not only because of your intelligent and warm appreciation of my uncle W. H. Auden, but because of your openness to ideas and interest in different cultures and wish for harmony in the world. Your balanced and critical view of Empire is especially relevant now when immature and, in many cases, ignorant reactions to what indeed have been serious injustices but pulled out of context as if there was no such thing as history and as if prejudice which we all have in one form or another can be reduced to racial discrimination rather than the complex psychological phenomenon that it is and which we all have individually to monitor in ourselves. Felicitations on the 20th Anniversary!"
No less important for the journal are remarks endorsing its strong commitment to ethics and high academic standards that have been the guiding light in enhancing the spirit behind its continuous rise to enviable heights. A fact that Prof. Sugata Bose highlights: "I am delighted to learn that Re-Markings has reached a new milestone in its distinguished journey as a literary and historical review. I recall with pleasure the excellent interview that Dr. Nibir Ghosh conducted with me on the challenges facing contemporary India. I enjoyed my visit to Agra where I spoke on the political and cultural legacy of Netaji Subhas Chandra Bose at a wonderful gathering convened by Re-Markings. I wish the journal all the very best in its future career and hope it will continue to enrich politically engaged and ethically informed intellectual discourse in our country and beyond."
Jane E. Schukoske, Former Executive Director of U.S. Educational Foundation in India, New Delhi & Professor, University of Baltimore School of Law, USA keenly observes: "In the inaugural issue of Re-Markings, Chief Editor Dr. Nibir K. Ghosh shared his aspirations for the journal: 'I humbly hope that the academic fraternity in India and elsewhere will warmly welcome this enterprise and contribute towards its growth with the sunshine of thought and breath of life.' Warm welcome ensued and has blossomed into steady commitment twenty years on. As we fans of Re-Markings celebrate, we take heart in the diversity of Re-Markings' contents, including literary analysis, short stories, poems, essays, interviews, book and film reviews, and editorials. Re-Markings brings scholars together across cultures and borders and promotes mutual understanding."
The fact that Re-Markings has marched ahead with its head held high without accepting any advertisements or donations from any sources whatsoever, is a marvel in these days of extreme commercialization and market economy.No less rewardingly revealing are comments from distinguished celebrity writers based in India. Sharankumar Limbale, the Dalit literary icon and activist points out: "Re-Markings is doing commendable work, under the exemplary leadership of its Chief Editor, Nibir K. Ghosh, in addressing issues and concerns seminal to mainstream as well as marginal literatures. My frequent conversations and occasional meetings with Prof. Ghosh provide much food for thought and reflection. In extending my heartfelt felicitations to Re-Markings on this memorable milestone, I am optimistic that it will continue to shed the light of wisdom in creating a world without borders and barriers." Dr. Arun Kamal, Sahitya Akademi Award recipient Writer and Poet, in his communication affectionately shares: "I am glad to learn that Re-Markings, a literary journal of repute under your eminent editorship, is celebrating twenty years of its continuous publication with itsMarch 2021 special number. As an eager reader, and an occasional contributor, of Re-Markings it is really consoling to find that a non-commercial literary journal has survived twenty years of rampant marketisation, setting up a secure enclave for creative writing and critical discourses. Besides, Re-Markings has served as a bridge between languages across seven seas as its numbers focused on world poetry and literary theory evidence this. I offer my greetings to you on this occasion and wish a long and fruitful journey ahead for Re-Markings."
Responding to such appreciation and patronage, I admit that though the profuse love and appreciation shown by contributors is a truly humbling experience. At the same time is also a call for an enhanced degree of responsibility in continuing to sustain and take forward the hallmark of excellence that the journal has acquired in two decades of its publication as evidenced through the endearment of its admirers as well as through its Impact Factor rating of 11.489.
As my mind travels back 20 years in time, I remember how my friends and well-wishers had cautioned me then against venturing into the less known terrain of journal publication. Inspired by my resolve to create an enduring platform for dissemination and exchange of ideas on issues and concerns of human import worldwide, I refused to be perturbed by the anxiety and fear of the unknown. Consequently, Re-Markings was launched. However, not unmindful of the hurdles and challenges I was likely to encounter on my journey, I had consciously declared at the end of my editorial in the inaugural issue: "The Gita says. 'Every surface derives its soil from the depths even as every shadow reflects the nature of the substance.' I am optimistic that Re-Markings will find effective sustenance in what it has to offer." Today, 20 years and 44 issues later, it is an immensely satisfying feeling to comprehend how, through 1500+ interviews, essays, articles, research papers, reviews, stories, plays and poems, Re-Markings has succeeded in creating for itself an enviable niche in contemporary international critical and creative discourses.
Even a cursory glance at the table of contents of the celebratory 20th anniversary special number of Re-Markings (March 2020) will reveal the journal's continued commitment to offer our worthy readers stimulating and provocative intellectual delicacies catering to multiple approaches to life and literature. The urge to embrace the spirit of universal brotherhood has been a motivating factor in helping us transcend and overcome boundaries and barriers of nation, culture, caste, class, colour, race, gender, ideology etc. While conversations with Robin Lindley, the Features Editor of Seattle (U.S.) based History News Network and Joanna Chen, poet and translator from Israel bring to us the happenings in powerful nations, the talk with Manoranjan Byapari, the Dalit rickshaw-puller-turned-author, showcases the fact that even the marginalized can be the torch-bearers of change through their active engagement with the written word. Inspirational historical figures like Pandit Ishwarchandra Vidyasagar and 'Shaheed' Bhagat Singh teach us, through their visions and deeds, how individuals, fired with a visionary zeal, can activate social as well as political revolution. It is equally significant that insightful erudite critiques and creative renderings from variant cultures and climes have always been and will continue to be the mainstay of our journal. I record here, with pleasure and gratitude, the stellar role of Mr. Sandeep K. Arora (Executive Editor) in creating, sustaining and beautifying Re-Markings in cyberspace through the aesthetically designed website, www.re-markings.com. I am also deeply indebted to my companion and wife, Dr. Sunita Rani Ghosh for her stellar role in providing ideational support to take Re-Markings ever forward. I am also thankful to my student and friend, Prof. A. Karunaker, for his association with the journal.
Considering the kinship I have enjoyed with Dr. Sudhir Kumar Arora and Dr. Abnish Singh Chauhan through their association with Re-Markings, I deem it a pleasure to thank them for the valuable space they are always ready to provide to share my academic and authorial engagements with the community of scholars they have created through their esteemed publications.
The world is passing through one of its most critical phases. At such critical junctures in mankind's onward march, the glimmer of hope seems to lie in the power and transformative potential of words that we use in articulating our feelings and concerns through the medium of speech and writing. As responsible citizens of the world, it is incumbent upon us to rise above our own limited interests and objectives and become empathic to the oppression, poverty, discrimination, trauma, violence, bigotry, pain and suffering that we witness all around us.Let us, therefore, come together and resolve in thought and action "To do the useful thing, to say the courageous thing, to contemplate the beautiful thing," as T. S. Eliot advises.
RE-MARKINGS CELEBRATES TWENTY YEARS OF EXCELLENCE
The star-studded E-Launch of the 20th Anniversary Special number and Re-Markings YouTube channel on March 18 2021 marked the completion of 20 glorious years of its publication. Celebrity writers from USA, Great Britain, Germany, Austria, Saint Lucia, The Gambia, South Africa, Singapore, and India showered lavish praises on the exemplary 20-year journey of Re-Markings.
US National Book Award Winner Charles Johnson stated: 'Re-Markings is India's finest ambassador to the World.' Harvard University Historian & Chairperson Netaji Research Bureau Kolkata, Prof. Sugata Bose, as Chief Guest at the E-Launch, said, "I am sure the journal will continue to enrich politically engaged and ethically informed intellectual discourse in our country and abroad."
My special Thanks to one and all who enriched the event with their gracious presence online. Many thanks to Saurabh Agarwal for his remarkable digital support on 18th.
I am sharing with immense pleasure the RE-MARKINGS Youtube channel so lovingly created and designed by our Executive Editor Sandeep K. Arora coinciding with the historic E-launch of Re-Markings' 20th Anniversary issue on March 18, 2021. This provides us with new avenues for bringing together contributors, readers and admirers of Re-Markings from India and worldwide on yet another vibrant platform for discussion and dissemination of ideas central to human concern. Kindly share, like and subscribe to the channel and remain in touch: https://youtu.be/03LnbHiRym8
---
About the Contributor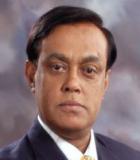 Dr. Nibir K. Ghosh, former Head, Department of English Studies & Research, Agra College, Agra is UGC Professor Emeritus. He has been a Senior Fulbright Fellow at the University of Washington, Seattle, USA during 2003-04. An eminent scholar and critic of American, British and Postcolonial literatures, he is Author/Editor of 15 widely acclaimed books and has published over 180 articles and scholarly essays on various political, socio-cultural and feminist issues in prestigious national and international journals. He is Chief Editor, Re-Markings, an International bi-annual journal of research (www.re-markings.com), which is in its twentieth year of publication. He can be contacted at ghoshnk@hotmail.com.
---