Creation and Criticism
a literary e-journal





























Visitors
Videos
Featured Interviews
News
Call for Poems.
Anthology on Contemporary Indian English Women's Poetry. Editors: Charu Sheel Singh & Binod Mishra
Thursday, 5. January 2017 - 12:06 Uhr
---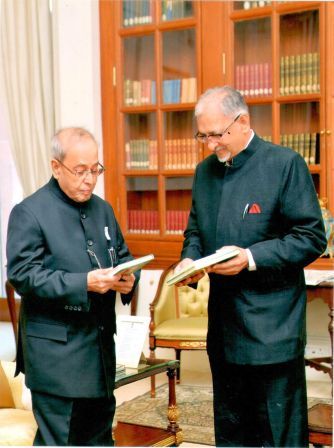 New Delhi: President of India Shri Pronob Mukherjee received from Sujit Mukhejee his book of poems DEWDROPS at the Rastrapati Bhawan on 1st February 2016. He highly appreciated Mr Mukherjee's poems and mentioned that poetry writing is a rare gift and only the blessed person can write such beautiful poems. He encouraged Mr Mukherjee to continue to write poetry.
Poems in DEWDROPS are written in simple English language. They appear to be very simple, yet they are highly nuanced with deeper meanings. Reading these poems lifts one's spirit. Poetry is all about seeing things which is invisible to us. Poet Mukherjee has mastered the art of capturing his visuals in wonderful poetic expressions.
---
Tags:
Sujit Mukhejee
Rastrapati Bhawan
Pronob Mukherjee
Dewdrops
165 Views