---
Saturday, April 8, 2017
The America Out Loud Talk Radio Network today unveiled its newest show 'Life, Liberty & The Pursuit of Pleasure'. This groundbreaking show, premiering daily starting Saturday, April 8, 2017, at 5:00 pm EST and again at 11:00 pm EST for Season One, brings together 10 extraordinary women from around the globe, plus the incomparable Malcolm Out Loud.
Life, Liberty & The Pursuit of Pleasure promises to be socially-sophisticated, and a culturally-diverse show that will provide plenty of talk for the water cooler. The show is edgy - but in reality we are simply talking about topics and feelings that most people think about but never say. I call it the 'Out Loud Truth'.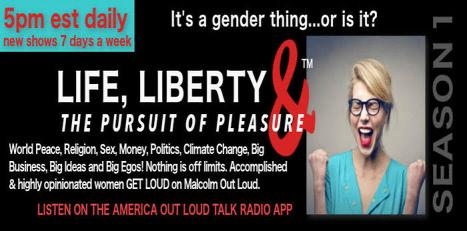 Show Producers Beverly Butler and Lynnis Woods-Mullins tell us, "We have assembled a list of global experts who have their finger on the pulse of trending topics. The collective dynamic promises to be both engaging and explosive."
The America Out Loud Network leverages content from proven experts to maximize and provide valuable insight to busy professionals and families. From hard news impacting our societal, political and cultural scenes to talker-type stories that embrace the human spirit, welcome to your daily dose of insight and inspiration.
Listen LIVE - America Out Loud Talk Radio!
---
2729 Views