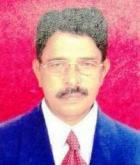 In Memorium

---
Sankarsan Parida: A Messenger of Peace and Brotherhood
---
But what happens to human beings
made in His image?
Man goes against man
nation against nation;
hatred and violence reign supreme
I aspire to find the way
and pray to God
inculcate contentment and peace
in the human brain
so as to purge him of
all the negative things
that stigmatize his path
and to strew it
with love, fellow-feeling and non-violence. (Segregation 14)
Sankarsan Parida (1953-2016), an Indian poet in English with six poetry collections, namely, The Golden Bird (1990), Segregation (1996), The Next Valley Beyond the Stars (2002), Behind the Tapestry (2008), The Estranged Periphery (2012) and An Elegy and Other Poems (2015) breathed his last on 16 May 2016 due to severe brain injury. Parida was born on 25 September 1953 at Sandhapalli, a village in the District of Kendrapara, Odisha. Late Kanduri Charan Parida was his father and Supari Parida was his mother. He postgraduated from Ravenshaw College, Cuttack. He left two sons—Mr Bishwa Bhushan Parida and Mr Shanti Bhushan Parida and two daughters—Monalisa Parida and Lipsa Parida. He dedicated his last poetry collection An Elegy and Other Poems to his wife Late Pravabhati. He taught English in various Degree Colleges of the State for more than thirty five years. He received "Replica" Anniversary 2002 Award in Indo-English Poetry, Kendrapara Sahitya Sansad Award in 2005 for translation, "Sahayogi", Cuttack Award for contribution to Odia and English Literature in 2008 and International Michael Madhusudan Academy, Kolkatta Award in 2008. After retirement, he was preparing an anthology of Orissan poets in English. It was to be published from Prakash Book Depot, Bareilly. But, Death took him away before the completion of the project.
---
S. Parida appears to be socially conscious and, so, does his best to make the reader aware but, sometimes, fails to give a forceful stroke to the walls of his heart for the feelings to let out. Being a poet of the masses, he talks of the things which can promote the cultural values. His poems mostly reflect the contemporary scenario dotted with the present day evil. He is much bruised to see the evils and, so, reflects over them like a moralist. The moralistic tone gets upper hand over the imaginative vigour and symbolic modes. In brief, he succeeds in transporting the reader to the native land, from the native land to the evils that India suffers from and, in a moralistic tone, offers solutions in terms of cultural values and traditions.
Sudhir K. Arora
Poet & Critic
---
Parida is a rising poet. He has established himself as a poet in Odisha and in India as well. But, he also has his limitations. Some of his poems lack poetic fervour. He does not take care to maintain rhythm in some of his poems as they read like extended poetical prose pieces. In spite of such weaknesses Sri Parida's poems are quite interesting and provide pleasure to its readers."
Premananda Panda
Poet & Critic
---
Four Poems of Sankarsan Parida
---
1. The Car Festival
The Car Festival
of Sri Jagannath, Lord of the Universe...
The Lord comes down His Diamond Throne
to embrace the whole mankind
and purge them of their earthly sins.
Everyone
irrespective of caste, creed, community
finds the Grand Road of Puri
the holiest and the safest place
for the finest stream of human race
flows from Saradhabali to Swargadwar
with the mystic touch
of love, fellow feeling, compassion,
non-violence, pleasure and peace.
The Car moves,
Lord Jagannath perceives
His devotees from all the world over. (from Segregation )
2. And I Am Startled
Several times
I have glanced
at death's sad and stubborn face
while walking on the sea beach,
the waves touching my majestic steps;
in some grassy fields
where I begin to understand
the man and the sky
in a bare loneliness
of late hours of pensive days.
And I am startled
to see him in every face,
in the twitter of birds,
laughter of sweet little children
in all our day-to-day acts
in the world of all senses and sequences.
Yet I venture
to challenge his drastic quests
imprudent breaks
and muster courage
to march ahead
without grumble, without craze
in the ways He leads me
and the ways He lays. (From The Golden Bird)
3. Sense of Meum
A tottering old man in tatters,
weak, infirm but sagacious
is puzzled at the pathetic conditions
prevailing all around
and often praises the colonial domination.
By the grace of the Supremely compassionate
he is bestowed with a convincing conviction
that all negative things of life—
violence, terrorism, successionism, communalism
and the abuse of trust everywhere
cause all sorts of turbulence.
The old consensus is shattered
and the momentum of the freedom movement
has petered out
and we never ruminate over the values
envisaged in the age old scriptures
to derive proper ideals.
We leave our cultural heritage
and run after pseudo honour, fame
and the sense of meum;
he vehemently admonishes
to cultivate divine virtues
like performance of sacrifices,
charity and penance
and work ceaselessly
with distinctive features
for the good of all. (From Behind the Tapestry)
4. My Town
This is my town
with din and bustle, glamour and glory;
I like it very much
though at times I am baffled to see
the streets dotted with debris
and dumped with building materials
and partially encroached
by capable citizens.
People assemble in the temple premises
in twos and threes
to have darshan of the Lord
and blessings for prosperity;
they contribute liberally
what they can
for the development of the historical shrine
while Nagina and Radhika, Pandu and Bipasa
move from door to door for alms
and take shelter at uncertain places—
hospital corridors, school verandahs
and public rest sheds.
The town bristles with life
notwithstanding the burdens
of diseases and death
while mornings and evenings
pass on in busy schedules,
lofty assumptions and assessments. (From Behind the Tapestry)
---
I, Sudhir K. Arora, with the team of Creation and Criticism pay my sincere tribute to this messenger of peace and brotherhood. May his soul rest in peace!
---