Creation and Criticism
ISSN: 2455-9687
(A Quarterly International Peer-reviewed Refereed e-Journal
Devoted to English Language and Literature)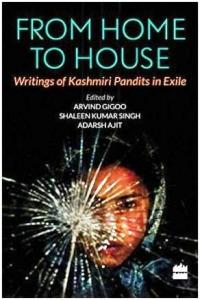 From Home to House: Writings of Kashmiri Pandits in Exile by eds. Arvind Gigoo, Shaleen Kumar Singh & Adarsh Ajit
---
From Home to House: Writings of Kashmiri Pandits in Exile. Eds. Arvind Gigoo, Shaleen Kumar Singh, Adarsh Ajit. Noida: HarperCollins Publishers India, 2015. Pages: 240. Price: Rs. 350/-. ISBN 9789350297995
---
Reviewed by Sudhir K. Arora

From Home to House: Writings of Kashmiri Pandits in Exile recounts the painful journey 'from belonging to longing' of around 3.5 lakh Kashmiri pandits who had to migrate from Kashmir valley to Jammu in 1990. It takes the reader to the memory lanes which give a clear picture of Kashmiri pandits who became refugee in their own country, passed miserable life in camps, lived under the shadow of militancy, and lost their Paradise and air to breathe in the valley.
The anthology is divided into two parts—fiction and non-fiction with 12 and 15 contents respectively in the form of stories, excerpts from novels, and essays. 'Preface' makes the reader mentally prepare to have empathy with Kashmiri pandits who suffered the trauma of migration and its aftermaths. The subsequent stories and essays present the image of exile, and words therein begin to tell the tales of pain, anguish, uprootedness, homelessness and alienation. Omkarnath's reconciliation to the present situation in Rattan Lal Shant's 'Air You Breathe', human relationship in Maharaj Krishen Santoshi's 'Kidnapping', the picture of massacre in K.L. Chowdhury's 'The Survivor', representation of Kashmiri pandits in Pamposh's voice in Siddhartha Gigoo's 'The Garden of Solitude', and satirical voices like "Kashmiriyat is to act in front of a camera" in Rajesh Dhar's 'Kashmir through Cameos' are a few instances that prove the naked dance of the militants, who erased the harmonious equation of Kashmir pandits with the muslims.
R.N. Kaul in '19 January 1990' finds the night of 19 January 1990 "a shockingly nerve breaking surprise" but "how was it that each Muslim neighbour had turned his back on his Kashmiri Pandit neighbour?" remains a mystery. Indu Kilam in 'Upon Revisiting Kashmir' feels: "Mutual trust was perhaps the first victim of militancy".
Maharaj Krishen Koul Naqaib in 'Life in the Camp' recounts the experiences of camp dwellers. The cry of Makhan Lal: "We are ruined. We have lost everything—quality of life, land, house and above all, peace of mind…we are ignored, marginalized and insulted" is the cry of every camp dweller.
K.N. Pandita in 'A Moment of Introspection' exhorts the people to "unleash the hidden and dormant potential" for the creation of "a new world, a new civilization, a new vision". Shaleen K. Singh traces out "the beginning of mutual understanding and exchange of ideas" in 'Pandits and Dogras.'
M.L. Kak in 'Pandits and Narendra Modi' quotes Narendra Modi: "Your migration from the valley of Kashmir is sharmanak (shameful). I will see what I can do for your return and settlement" and finds the Kashmiri pandits hopeful because of "the emphasis of the BJP on the return and rehabilitation of the displaced people".
The Kashmir pandits, who are now settled in Jammu and Delhi, feel their roots in homeland, and so visit Kashmir as home visitors. But some young ones have developed a new attitude and embraced materialism, which offered cash and comfort. Exile is rejuvenation for such youths as it freed them and gave the wings to fly. The whole world has become the homeland for these youths.
From Home to House is a worth reading book for a reader who has a heart to feel and head to understand what human relationship means and what happens when it breaks. The writings of Kashmiri pandits in exile give a peep into the lives of Kashmir Pandits who are still longing for home somewhere in their hearts that cry within.
---

The Reviewer:
Dr Sudhir K. Arora (b.1968) teaches English at Maharaja Harishchandra P. G. College, Moradabad affiliated to M. J. P. Rohilkhand University, Bareilly. He has several significant publications to his credit including Aravind Adiga's The White Tiger: A Freakish Booker and Cultural and Philosophical Reflections in Indian Poetry in English in Five Volumes.
---