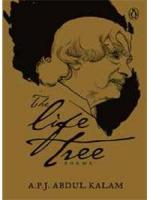 Humanism in Action: The Poetry of A.P.J. Abdul Kalam
---
Dr. Anupam Bansal & Prof. Satish Kumar
---
Abstract:
A.P.J. Abdul Kalam's poems are highly humanistic and spiritual summation of the perennial religious wisdom. He envisages India passing from a developing nation into a developed nation. He discards all negative attitudes. He is also a singer of the infinite beauty and charm of nature. All objects of nature convey a divine message. As a poet he is endowed with forward looking quality. His vision is futuristic. He fuses poetry with spirituality and dreams of better and happier world for the children of India and the world. Indeed, his poems exhibit his humanism in action.
Key words: Spirituality, humanism, nature, patriotism, futuristic, the Vedas, harmony.
---
Dr. A.P.J. Abdul Kalam, Former President of India and one of the world's outstanding scientists, was a poet of humanity, love and nature. All of his poems in The Life Tree, a collection of his poems in English, are suffused with the message of compassion, forbearance, sympathy, selfless service, dedication and pure faith. He emerges as a sensitive and thoughtful poet in poems after poems. A humanist and spiritualist Dr Kalam combines scientific vision with the imaginative and emotive approach in all his poems and other writings. His poems resonate with the highly humanistic and spiritual values, enshrined in the Vedas, the Upanishads, the Gita, the Koran, the Bible and all other religious books in the world.
As a humanist, Kalam, first of all, realises his duty as a poet to inspire his own countrymen, especially youths so that they might spread the message of humanity and love all over the world. In the poems of nationhood—'Harmony', 'Unseen Hands', 'Message', 'To Youth', 'Swearing Dreams' and 'Amar JawanJyoti' (The Hindu, August 26, 2005), he presents a vision of India, ushering the world into a new millennium of love and humanity. In the title poem 'The Life Tree', Kalam finds infinite beauty, happiness and brotherhood in the realm of nature.
Perfume radiating, beauty all around,
Honey bees filling the flower bed, mutual love flowing.
Intoxicated with the scene, we looked at the top layer,
Ring of the buds about to blossom
And new layers at their birth. (The Life Tree 10)
Kalam sees humanism even in Nature. To him nature is not a thing of colour and form. Nature is endowed with a conscious life of her own. She communicates her best thoughts to man and when he opens his soul to embrace her influence; a complete harmony is established between them. It is this harmony that consoles and comforts man's frayed nerves and perturbed minds. When this harmony is broken, man's life suffers from unrest, misery and moral turpitude:
But for nature hearts harden
Wickedness permeates over the soul,
It is God's will, gladden thy soul
Blossom we will, blossom we will.
Cheer up, dear bud, blossom we will. (The Life Tree 80)
Kalam is also a singer of the infinite beauty and charm of nature. He finds both beauty and divinity in nature. Nature exercises an ennobling and exalting influence on human life. So man must live in close proximity to nature. Nature also reveals the mystery of creation. She is also man's best teacher. Blooming flowers give man a message:
You are born, live a life of giving
And bond with the tie of affection
Your mission is The Life Tree (The Life Tree 10)
Nature is the abode of God. We are always in search of peace, beauty, and joy which reign supreme in the realm of nature. Here is a flower that seems to be talking with the poet thus:
O creator of dreams,
Why do you keep searching of God!
Nature is His Home, purity His abode
And life is but His blessing!
Keep loving nature and care for its beauty.
Then you can see divinity all over (The Life Tree 30)
Bird's flight gives him "sense of freedom and pleasure." In his famous poem, 'Rock Walls', Kalam believes in boundless humanity, compassion and love overflowing from human heart. 'Wall' is a symbol of division, dissention and separation which are inimical to humanity. He envisions the entire world as one unit and not divided into different countries or nations. The mission of human life ought to be the service of humanity and nature:
I build no walls, to confirm joy or sorrow,
To sacrifice or achieve, to gain or lose.
I just grow flower on all open spaces
And float the lilies on ponds and rivers. (The Life Tree 57)
As a humanist and champion of world peace, he has firm faith in man. To him man is the image of God. God endowed man with wisdom to conquer satanic temptation. He affirms his unshakable faith in man's undying humanity and goodness. God commanded to man:
O my best creation!
I have given faculties and brain for you to deploy
Endowed with my image, use them
To defeat the Satanic temptation in you
And then come to me as one who is pure
My blessings will be there for you to win (The Life Tree 61)
These inspiring words reveal the message of love and compassion in modern terror infested world. The mindless terrorists have been indulging in indiscriminate massacre of innocent human beings all over the world in the name of God. These ignorant fools who think themselves to be the messenger of God, are in fact are inspired by Satanic temptations, which can be overcome by mercy and love. What they require is to be enlightened themselves with the divine message of love and piety.
Kalam believes in the religious unity of India and entire mankind. In 'God', he condemns hatred and "stifling life" in the name of God. He exhorts human beings:
Know ye all: Khuda and Ram
Both are one, blossoming in love.' (The Life Tree 33)
And again he says:
God is Love and Love is God
And a child was born all over again! (The Life Tree 33)
Kalam addresses most of his poems to the youth who have to play a vital role in the regeneration of India. He envisages India passing from a developing nation into a developed nation. The collective efforts of people would make India great and strong. He prays:
O Almighty, bless all my people to work and transform
Our country from a developing nation into a developed nation
Let the second vision be born out of the sweat of my people,
And bless our youth to live in a developed nation. (The Life Tree 92)
He discards all negative attitudes. What we require is a change of attitude from negation to creativity and affirmation. He asks the youth to strive for realizing India "powered by economic strength and a strong value system" (The Life Tree 3). Let us keep the lamp of knowledge burning to realise the vision of developed India. The youth must cherish high aims. "Small aim is a crime" and "great aim leads to great thoughts." He inspires the youth to stretch their imagination. He gives a mantra of success. This mantra is: "Love for your work and faith in your dream. / There is no force on earth that can shatter your dreams" (The Life Tree 36). Collective effort leads to success and national reconstruction.
He is a humanist whose religion is love and respect for humanity. He wishes to serve humanity and love nature. He loves his mother. He pays a warm tribute to his mother who moulded his character and personality. She shaped his destiny by instilling qualities like firmness, courage, iron determination and rectitude. Paying tribute to his mother, Kalam says:
All this pain of a young boy,
My mother! you transformed into pious strength
Kneeling and bowing five times a day
For the grace of the Almighty. My mother,
You strong piety is your children strength (The Life Tree 75)
Kalam's immaculate command over English, wide learning, scientific outlook, minute observation, sweet-bitter experiences, radiant wisdom , love of nature, fecundity of imagination, faith in humanity and spiritual outlook have imparted suavity and lucidity to his poetic method. What he writes is simple, clear and forceful. He expresses deep truths in fewest possible words, which are noticeable for suggestiveness. He also makes a good use of figures of speech. It is the figure 'Simile' which seems to be talking with the reader. For instance:
And the rain pouring like heaven in tears (The Life Tree 26)
Let our life be beautiful like flowers (The Life Tree 13)
Like clouds fill the water cups of rivers (The Life Tree 13)
So that your blessings flow for ever
Like perennial rivers and dazzling sea waves (The Life Tree 12)
Kalam expresses his message of love and humanity in the widest commonalty spread in simple, clear, forceful, precise and aphoristic style. His humanistic poems are conspicuous for forward looking quality. His vision is futuristic. He adroitly merges poetry with spirituality and true religious spirit. He is a poet of humanity in action, humanity that we should practise in our daily life. In 'My National Prayer', an outstanding patriotic poem, Mahatma Gandhi, the Father of the Nation emerges as Humanity in Action. On August 15 1947 India attained independence. The all-pervasive joy was darkened with gory communal riots. Mahatma Gandhi was "walking barefoot / In the streets of Bengal for peace and harmony" (The Life Tree 90). He has faith in the people of India and the world to act upon the ideals of humanism, love and compassion in their daily life. He prays to God:
Create thought in the mind of my people
And transform those thoughts into action.
Embed the thought of nation being bigger than
The individual, in the mind of leaders and people. (The Life Tree 90)
Atal VihariVajpai, the Former Prime Minster of India and an illustrious poet writes in the 'Foreword to The Life Tree': "Dr. Kalam has always been an opponent of communalism, casteism, linguistic chauvinism, regionalism and violence." Showing a profound understanding of Indian society, he attempts to find solutions to the problems with compassion, detachment, forbearance and sympathy. Kalam, who dreams of better and happier world, is a superb poet of humanity in modern Indian English poetry.
Work Cited:
Kalam, A.P.J. Abdul. The Life Tree: Poems. New Delhi: Penguin Viking, 2005. Print.
---

About the Contributors:
Dr. Anupam Bansal is Associate Professor of English in M.L. Girls P.G. College, Saharanpur, U.P. She has published over a dozen research papers in prestigious journals and has participated in numerous seminars and workshops of English Language and Literature.

Prof. Satish Kumar retired from UP Government Higher Education Service Class I. He worked as Professor and Head in three Government Colleges, while he had been the Principal of five Government Colleges. He has authored a number of books including Edgar Allen Poe: Style and Structure of His Short Stories, Literary Explorations, and his four volumes on Indian Writing in English, namely, A Survey of Indian English Prose, A Survey of Indian English Poetry, A Survey of Indian English Drama and A Survey of Indian English Novel. He had been the former Dean, Faculty of Arts, MJP Rohilkhand University, Bareilly, U.P., India. He can be contacted at drsatishkumar08@gmail.com.
---